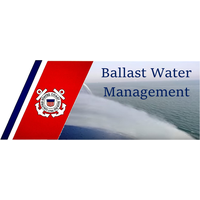 January 17, 2017 RADM Paul F. Thomas, USCG
Since September of last year, when the implementation date of the International Ballast Water Management (BWM) Convention became clear, all eyes have been focused on the U.S. Type Approval Process. Ship owners and operators have been concerned, in particular, with the differences between the between the U.S. and International Type approval processes and the potential that BWMS meeting the more stringent U.S. requirements may not be available prior to the entry into force of the International BWM Convention in 2017.
In December 2016, the Coast Guard type approved three BWMSs, and we expect to see more systems submitted for type approval early this year. The type approved systems currently available treat ballast water with filtration and either chlorination (EC) or ultraviolet light (UV) to reduce the number of living organisms to less than the regulatory limits. Information on the U.S. type approved systems is available at the Coast Guard "Maritime Commons" blog, Maritime Information Exchange (CGMIX), and Homeport internet portal.
The Coast Guard recognizes that a range of BWM options are necessary for the global fleet to manage ballast water effectively, including a range of BWMS sizes and treatment types. Even as we continue to focus on type approving additional BWMS, vessel owners and operators need to look beyond type approval to the challenges associated with fitting and operating the systems and planning for compliance with U.S. and International standards.
For the full article, please click here.
---